Refined Beauty
Naperville, IL
Suite Owner/Stylist- Jennifer Alvarez
Meet Suite owner, Jennifer. We connected about a year ago through facebook. As you will see below, her work is truly incredible. She has such a natural talent and an eye for detail. Beautiful, both inside and out, Jennifer is also very intune with the business aspect of this industry. As you will learn from our interview, she gives great insight on how to grow your business behind the chair, how to know when it's the right time to transition to a salon suite, and how to keep your clients coming back for more.
As always, we hope this interview will motivate you, inspire you, and encourage you, to continue to share your love and passion for the beauty industry. Enjoy and be sure to follow her social pages and check out more of her awesome work!
1. What advice would you give to a stylist coming out of school? Be clear on what you want out of your first salon. Is it education? Flexibility? Creativity? When you interview make sure to ask the owner questions, so you know what to expect for your experience working with them.
2. What should they expect? It will take time to build a steady clientele. You should continue to work on mannequins to perfect your craft during this slower growth phase. Success doesn't happen overnight!
3. What makes you a stand out in the industry? I have quite the drive to be the best I can. I love sharing my passion with others and I am a student for life. I'm always trying to grow my skills.
4. What is your specialty.? The makeover! I can look a person and I just know how I can make them look more attractive.
5. When did you know this would be your career path? Once I was in beauty school is was affirmed I was in the right place. School was difficult for me, but beauty school just felt so natural. I excelled (yep, over achiever. Student of the year... competition winner lol). I loved it!
6. Can you give some tips on how you utilize social media platforms to grow your business behind the chair? Being consistent and connecting with my audience. Constantly posted inspiration, quotes, my work. It's a great way to reach potential clients.
7. Besides giving a great cut and color what do you feel is also important in terms of providing a 5-star experience? Being authentic and genuine. I truly care about the people I serve and want them to feel really good on the inside as well as the outside. I also think educating them on their hair. If we don't, who will?
8. Using only 4 words. Describe the most important attributes of a successful stylist? Education, Authenticity, Perseverance, Mentor
9. What is the biggest misconception people have about hairstylists? That it is easy. We wear many hats. This is a business and we must treat it that way while we serve.
10. What do you do to keep your clients coming back? I book their appointment ahead of time. I create goals for their beauty and I always treat everyone kindly and give them a full service. I always consult with each of them prior to their service even if I have seen them for 12 years! How do continue to wow your clients year after year! I educate myself to stay on top of trend and technique. I tell them about the classes and travel that I do. I fill them in on my career dreams and passion for the industry.
11. How did you decide to go from a commissioned salon to a booth rental salon or suite owner? I have been dreaming about my own salon since school. I even won a competition for developing a salon concept (lol over achiever). This experience was a bit forced…a leap of faith. Honestly, I felt like I had no choice. After being with a company for 11 years, I was being pushed out because of our different values and dreams. Most of the salons in my area (in my eyes) are the same; They are all good. However, I knew that good was not good enough. I knew I had so much to offer. Why jump from one salon to the next when it would be a similar experience. How would I grow? I knew the grass was not greener on the other side. I contemplated for 2 weeks on what to do with the next chapter of my life…To give up or preserver? It was embedded in my head that salon suites/ booth rent is a dead end. But was it? I made up my mind that I would change this view point and it started within myself. I made my mind up I would succeed!
12. How did you know the timing was right? There was a brand- new salon suite that was built 5 minutes from my house. It was outside of the 4.1-mile radius from previous salon (per my 1 year non-compete). It was beautiful, great parking, clean. It was like it was built for me. I wasn't prepared though. I didn't have any of my client's info or products or marketing material. I just had to have faith I was doing the right thing. Many tears and prayers later…everything turned out better then I imagined.
13. Have you ever felt like giving up on your career? There were 2 times in my career I almost gave up doing hair. The first I had many personal obstacles that I was overcoming (An abusive relationship). I was really lost, literally hurt, and lost my remembrance of why I wanted to be in the industry. After moving around, I finally found I salon that I was able to call home. It was safe (I was safe! Thank you Jesus) and I was able to grow my education and career for 11 years. The second was when I left the salon I was at for 11 years, the comfort zone. I thought: where am I going to go, maybe there is something else I am meant to do…. I cried, prayed, had a lot of thoughts for two weeks. Thankfully my husband allowed my brief craziness then encouraged me to give the salon suite down the road a try. We looked at it four times, lol! Trust me going in the direction of the unknown is scary. He encouraged me (Along with my clients, friends and family) DON'T GIVE UP!
14. Tell us something not too many people know about you? Well I feel like I have been an open book so far. I have had successes and failures just like everyone else and maybe I've experienced more of them then others. You will miss 100% of the shots you do not take. I have had so many great mentors in my career from being a platform artist with Aquage for 6 years working alongside Luis Alvarez, Ann Bray, Eric Fisher and the entire talents team. I have won the Presidential Scholarship twice allowing me to train in London at Vidal Sassoon and a week with Viviane Mackinder in her home in the Hamptons. I have won the Stars Chicago Photoshoot 3 times and the Leo Passage Award, with the help of my talented friends and photographers. I have entered NAHA 4 times and have NOT been nominated yet, but the learning experience has been instrumental to me. I'm currently training to be a Davines Educator. So, fingers crossed that works out! I'm super passionate about this industry. I take it seriously and I love helping young artists and even entrepreneurs grow their career. I feel like I have just started in the industry even though to most I am seasoned. My dream is to open a salon and grow a team, so I have quite busy with that!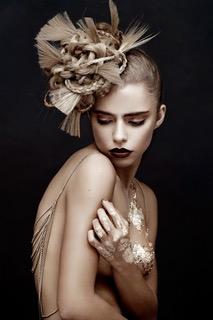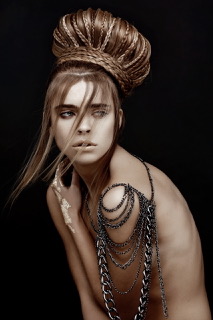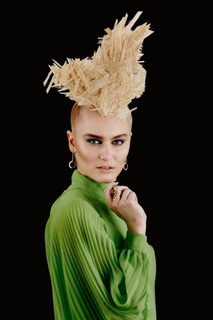 Photo #1 and #2
Photographer: Robert Beczarski
Stylist: Jenin Paradise
Photo #3 and #4 Photographer: Gene Alvear Clothing:
Dane Vintage Assistant: Kasey Surges Nails: jessica MOnzalvo