Stylist: Chad Demchuk
Salon: Michael Flores Salon at Neiman Marcus
Dallas, Tx
Instagram
Twitter
Facebook
Linked
"I have been a stylist for 17 years. I originally went to a Vocational Technical High School, where I got to learn a trade at the same time as completing my high school career. After testing them all out, I had decided to commit to Culinary Arts, with a small nudge from my mom telling me I could make lots of money. Mid-way through my Junior year, I started to realize that it wasn't quite for me. I had remembered receiving lots of compliments from when I had tried out the Cosmo program, and thought maybe I could do hair. Knowing I would need to get more hours in order to get a license for the industry, I figured I would try it out once I graduated from high school. And that's just what I did- I started beauty school 3 days before I graduated from high school, graduated less than a year later, and have been enthralled in the industry ever since then!"

I have been following Chad for some time now, of course on Instagram. He is so incredibly talented, with such an eye for detail. He has won numerous awards including Joico Most Creative 2018, N Ireland Photograph Award 2017, Contessa International Stylist: top 18, and NAHA Hair Color 2012, just to name a few. Chad is also a Platform Artist for Joico. You can read more about his journey and truly gain some great advice and insight from one stylists to another. As always, we hope this interview will motivate you, inspire you, and encourage you, to continue to share your love and passion for the beauty industry. Enjoy!
1. What do you feel is the biggest misconception of being a hairstylist?
One of the biggest misconceptions I find is that being a hairstylist is EASY. It's not- we work long days standing in one spot. We typically don't get a lunch "hour". We juggle many hats: stylist, therapist, babysitter, waiter, chemist, artist, etc. We have to up to date on everything social to be able to keep multiple conversations flowing through the day. And do it all while looking good and feeling happy! Oh, and then you also have to perform a fantastic haircut/chemical service on top of it all :)
2. Tell me the top 2 two ways you are attracting new clients
The top 2 ways I attract new clients is by asking my clients to send me their friends, as well as doing the best that I can every time. When you perform the best that you can, and other people recognize it, they will stop and compliment your client's hair and they will automatically say "Thank you" and tell that person about you.
3. Besides giving a great cut and color what do you feel is also important in terms of retaining clients?
I think honesty is the big key every time. If you think something is spectacular- say it. If you think something could go sideways and go wrong, state it out loud. If you hear contradictions during the consultation, address it. Being a "yes" person doesn't always build trust.
4. What is your biggest accomplishment? What are you most proud of in your career?
Gosh- I feel like I have had so many, and I feel like what was "big" to me 5-10-15 years ago always changes! I think my standout accomplishment was winning the 2012 North American Hairstylists Award (NAHA) Hair Colorist Award. It gave me confidence and validity that YES, I kinda know what the hell I'm doing with hair, and hell- I think I may have found something that I'm kinda good at! It helped me want to expand on doing other types of hair outside of just working in a salon behind a chair, allowing a different type of creativity to flow, testing my skills and honing my eye in a different type of manner. Since then I've continued to pick up a few more trophies from across the world.
I think some of my prouder moments happens rather regularly. I am an Platform Artist for Joico, getting to travel the world, sharing education with other stylists. Every opportunity I get to go to a salon, a trade show or an event, I get to connect with other stylists and share techniques or inspiration or different thought processes on how to approach things. I thoroughly love coaching other stylists and when I see them have that AHA moment, it really fills me up with joy and pride!
5. What 3 things would you tell new stylists to look for when searching for their first salon job?
1. Set higher standards for yourself than what you think you can do, because you CAN do it in time. If it means interviewing at a salon you think may be "better" than you are capable of working in, GO FOR IT! What do you have to lose?
2. Ask your friends if they have ever heard of the salon you are considering. If people haven't heard of it, or haven't heard good things about it, that could be a red flag.
3. Realize that the interview works two ways- they are learning about you, and you are learning about them, so ask as many questions as you would like. If at the end it doesn't feel like the best fit, it is always okay to decline an offer, in a tasteful way because you never know when you will cross paths again, this industry seems to be close knit!
6. What advice would you give your younger self as you were just starting out in the industry?
Pre-booking is KEY!!! I was always afraid to ask/recommend a client to make their next appointment, thinking that they would just call and ask for me. They didn't always ask for me, or they didn't always call. Pre-booking is not only a convenience for both parties, but it also helps you gauge what your income level will be.
7. You are a Joico Artist. Tell me about that journey for you. How did it start, why did you choose them, what you love about it, and how it helps you behind the chair?
The beauty school I attended was owned by a Joico educator at the time. He allowed the local educators to come in and use the school for educator training programs or would host classes & events there. I had an inner passion for wanting to teach and lead (I had wanted to be a math teacher at one time, I had coached cheerleading during this time, and I was an Eagle Boy Scout and a leader in the troop). When I saw this potential opportunity of being able to teach in a type of manner outside of a salon and for a manufacturer, I knew that would be awesome! To be honest, I wanted to do it because I wanted to get free education regularly to better myself. I didn't know how often I would have to go out and teach, but I figured I would just do it. I found out that I had to wait two years after graduating beauty school before I could apply, so I attended as many Joico classes as I could. I realized as I attended more and more Joico events that I really connected to the brand because they are such a science driven company, truly healing hair using things that are derived from hair. To me, if I am going to be a representation for something, I want to be able to relate and be proud of it and feel like it resonates within me.
They have been a huge part of my career in the industry because they have helped support me through so many things I may not have been able to achieve on my own. From supplying color and styling products for photo shoots, to asking me to test new products that will come out for them, to requesting me to share education around the world. They've truly been awesome, helping me spread the JOI I have for the industry, and also helping spread my name in the industry as well.
Behind the chair, it has helped me a LOT as well. My technical skill set has been enhanced with their education and fantastic products that I use on my clients. When I tell a client that I also teach for a professional brand, it helps give them ease that that I am competent in what I do, but it also helps bolsters the salons reputation as being higher end and stronger than potentially others.
8. Tell me 4 things stylists must do consistently behind the chair to become a true success in this business?
1. Always be honest, don't be a YES person all the time.
2. You attract what you portray, so ALWAYS dress for success.
3. Always do a consultation face to face, not through a mirror.
4. Be on time! My personal mantra- 15 minutes "early" is on time, "on time" is late, and late is grounds for firing. If you know you are going to run late into the next appointment, call the clients and let them know, they will respect you for it in the end!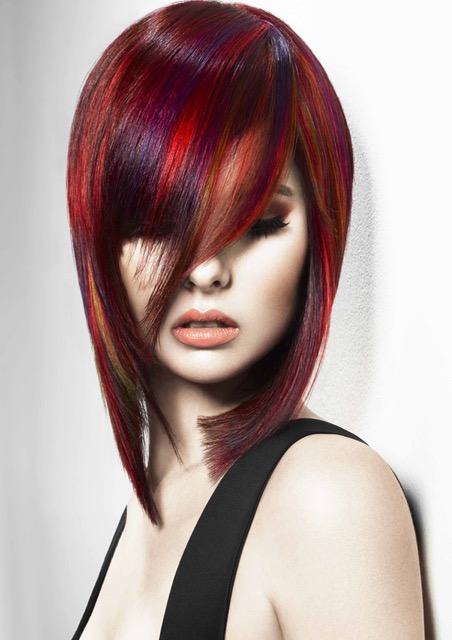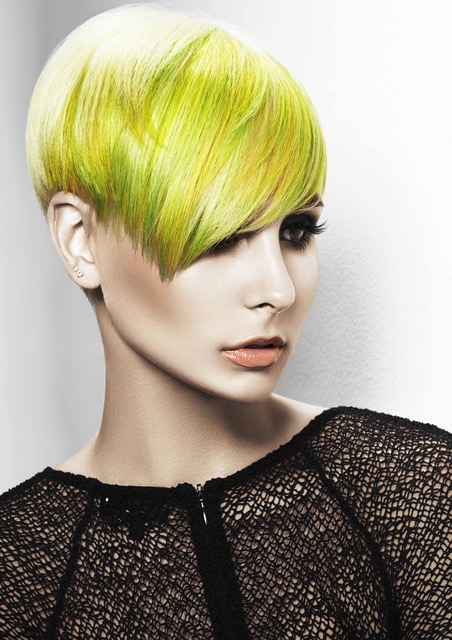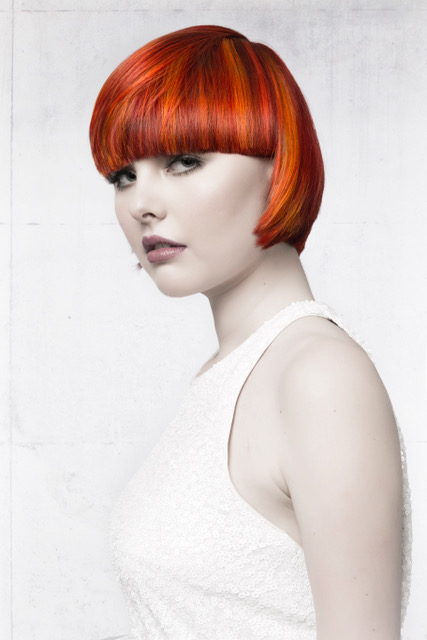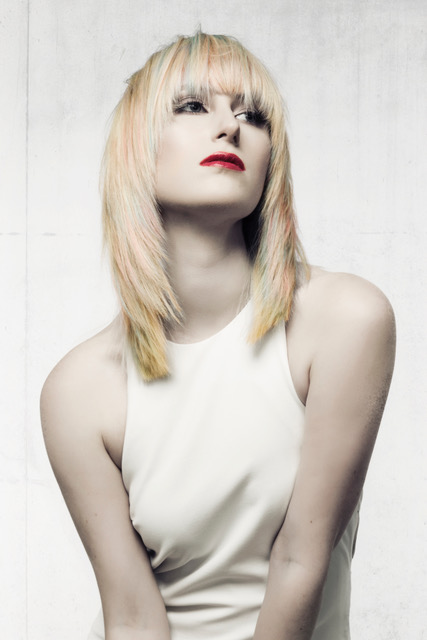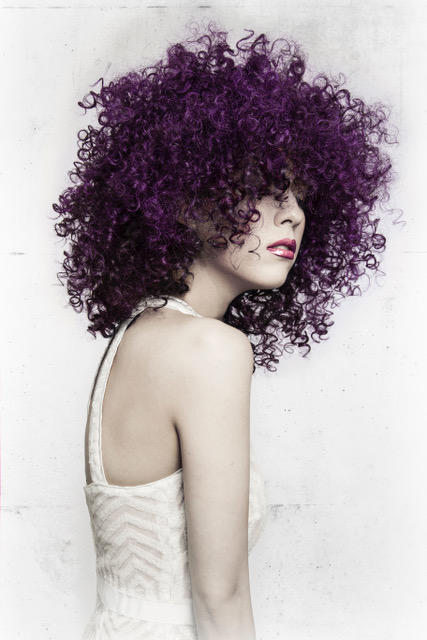 First 2 photos:
Photo: John Rawson
Makeup: Bridgett LaDawn, of Glamour Rx
Last 3 photos:
Photo: Tom Carson
Makeup: Bridgette LaDawn, of Glamour Rx